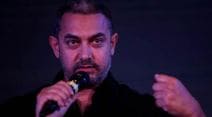 Courtesy : Indianexpress.com 
Now as the dust over AwardWapsi controversy seemed to be settling down, Aamir Khan appears to have opened up another can of worms with his statement on rising intolerance in India. Of course before that one of the most eminent Indian English poet and littérateurs (one of my favourites) ,
Jayanta Mahaptra had returned his Padma Shri award
, citing his unhappiness over increasing "moral asymmetry" in society. Of course, it didn't make it to the 9 O'clock show, after all the Odia octogenarian may have accomplished a lot in the world of literature, his statement is unlikely to attract as many eyeballs as any statement made by Aamir Khan would. However, it is really irresponsible of the mainstream media to report that Aamir Khan wanted to leave India for whatsoever reason. In fact he was replying to a query by the interviewer (who himself was expanding the debate based on the finance minister Arun Jaitley's question to Aamir Khan).
When asked about AwardWapsi, Aamir was candid enough to admit that he supported the campaign which he saw as a peaceful form of protest. But while replying to the question if the level of intolerance was rising in India he agreed that over the past few months he did feel so and said his wife once even asked if they should leave India which according to him was a disastrous thing. He was merely presenting the worst case scenario or rather a situation which under no circumstances should be allowed to develop and was not expressing something he himself was thinking about or his wife may seriously be considering. But as the part about "contemplating to move out" seemed more sensationalist proposition, the media latched on to it, repeating ad nauseum until it did seem that Aamir had indeed said he wanted to leave India.